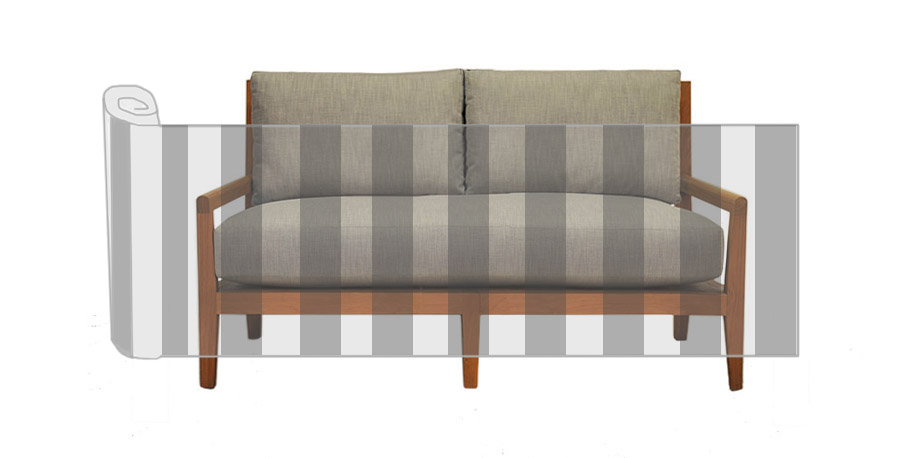 5 Tips for ordering fabric
Now that you've picked the perfect fabric, you have a few more things to consider.
Order the fabric ASAP. – Fabric lead-times often exceed furniture lead-times.  This means we may be completed with your frames before your fabric arrives. If this happens, your furniture will be delayed.
To railroad or not to railroad? – You will need to specify the direction in which to run the pattern.  Even a plain fabric can have a "pattern" that is created by the weave of the material. Fabric direction must be specified as "Do not railroad" or "To be railroaded".  If no specification is provided, our standard is "Do not railroad".  An exception is made for cushions that are wider than 48" which requires railroading to avoid seaming. This graphic can help you decide.
 Consider the size of your pattern's repeat when determining yardage to be ordered. – We quote fabric yardage based on a plain, 54″ roll. If you choose a pattern with a sizeable repeat, please inquire as to whether additional yardage will be needed.  You should also consider whether the pattern is large enough to warrant centering.  This along with pattern matching along the seams can add considerable yardage.
Does your fabric require backing? – Many fabrics fray excessively when cut.  This makes handling and sewing the fabric difficult.  In addition, the fabric may pull apart at the seems after some use. You should inquire with the fabric manufacturer to get their recommendation. Fabric backing, if needed, should be applied prior to shipping to us.
Does your installation require additional stain barrier or other treatments? – If so, these treatments should be applied prior to shipping to us.