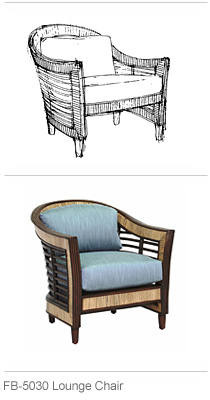 Every Fong Brothers piece starts with a hand-drawn rendering that embodies the spirit and sensibility of the finished product.
Design. In balance with nature.
Since 1953, Fong Brothers Company has created fine hand-crafted residential and commercial furniture that brings artistry, detail, and a fresh perspective to traditional materials.
Utilizing a combination of natural, sustainable materials alongside man-made ones, Fong Brothers relies on traditional artisans using centuries old methods blended with today's modern manufacturing processes. Our full service manufacturing capabilities provide us the flexibility to create pieces for everything from small residential projects up to large hotels.
It is this balance of new and old, raw and refined, modern and timeless that is evident in every Fong Brothers piece. From the hand drawn sketches to the quality workmanship, every chair, table and nightstand receives our personal attention.